Uprootedpalestinians's Blog
Israel's Counterinsurgency Apologist: Colonel Richard Kemp
Richard Kemp starts with the premise that Israel doesn't commit war crimes and misinterprets international law accordingly.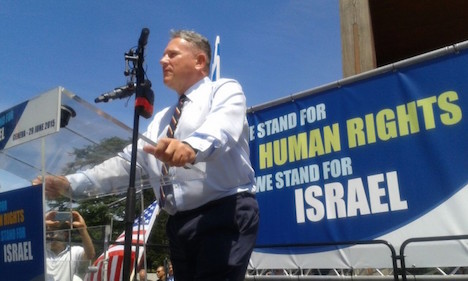 Richard Kemp speaks at a rally in defense of Israel's war crimes during Operation Protective Edge (Israel Ministry of Foreign Affairs)
Retired British colonel, Richard Kemp, has been an ardent supporter of Israel's three major military operations in Gaza conducted over the last six years. He has collaborated on several occasions with the two notoriously pro-Israeli NGOs, UN Watch and NGO Monitor, serving on the Advisory Board of the latter and appearing as star witness under such auspices at the UN, most recently at a two-day side event at UN Headquarters in Geneva devoted to condemning the UN Commission of Inquiry (COI) Report on the Gaza War of 2014.
There is no doubt that Col. Kemp has the credentials to speak as a counterinsurgency specialist, having served…
View original post 1,533 more words