Uprootedpalestinians's Blog
Obama, Netanyahu Look at Aid Hike to $50 Billion
Obama Praises Israeli 'Self-Defense' Against Palestinian Unrest
President Obama and Israeli Premier Benjamin Netanyahu struck a hawkish tone in their high-profile White House meeting today, talking up massive increases in military aid for Israel while Obama praised Israel's government for its use of "self-defense" in the ongoing crackdown against Palestinian unrest.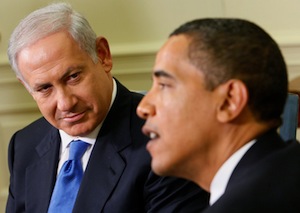 Long-standing disputes between Netanyahu and Obama seemed to be all but forgotten today, with Obama seemingly ready to endorse anything and everything Israel's far-right government is doing, a fact which led Netanyahu to term it "one of the best" meetings they'd ever had.
While most of the public narrative between the two was the usual self-congratulatory comments about the inherent greatness of the US-Israeli relationship, the nuts and bolts of the talk appear to have centered on the increase in military aid, one which both sides agreed to expedite.
A…
View original post 140 more words